What is PULSE?
 PULSE is our employee volunteering programme where eligible employees are matched to a not-for-profit partner, such as Save the Children, for a three-to-six month assignment. Volunteers contribute their skills to solve healthcare challenges at home and abroad.
On this page, you can follow the journey of a selection of our employees currently on a PULSE assignment.  Each of the three employees listed below will be sharing their story on a regular basis.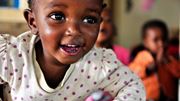 PULSE impact report
Download PULSE impact report
Please select...

Hello, I'm Tommy, and I've been with GSK since 2000. Currently I am a Senior Sales Representative in the respiratory division in the Bloomington, Indiana territory.
I am embarking on a six month PULSE assignment as a communications specialist with PATH in Ho Chi Minh City, Vietnam, working on the Communities for Healthy Hearts programme, which aims to increase awareness of cardiovascular disease and where to access screening and treatment.
Video blog #2 - August 2017
In his second vlog, Tommy reflects on his first month in Vietnam and how Ho Chi Minh City has surprised him (including the traffic!).  He also gives an update on PATH's Communities for Healthy Hearts campaign and why this is more than just an awareness campaign.
Video Blog #1 - July 2017
In his first vlog, Tommy gives an introduction to himself and discusses what he's excited about for the next six months, and what his hopes and fears are ahead of his PULSE assignment.

Hi, my name is Alexandra (Alex) and I am Regional Head of Supply and Demand for our Latin America and Brazil Pharmaceuticals organisation. I am based in Panama.  From October 2017, I am going to be spending six months with the Clinton Health Access Initiative in Kampala, Uganda as Oncology Associate.
During my assignment, I will be providing Supply Chain expertise to help the government scale up access to cancer treatment and to create a roadmap that other countries can follow.

Hi, I'm Caroline and I am an Organisational Development Consultant. I work in HR, but support the Vaccines organisation and am based in Belgium. From September 2017, I am going to be spending six months on a PULSE assignment with UNICEF. I will be doing this in my home country.
On my assignment, I will be supporting the CEO of UNICEF Belgium to help shape the people and organisation strategy for the company. I'll be focusing specifically on leadership capabilities and engagement levels.
Blog 1: August 2017
Back to school: I'm about to start a new adventure!
While many kids around the world are about to start a new school year, will meet new faces, study in new classrooms and learn new concepts; I will be leaving the GSK office, my current role and my colleagues to start in a completely different environment. My PULSE project is about to start!
The GSK PULSE programme is a fantastic opportunity for employees to devote time and skills to not-for-profit partners and in doing so, live out our mission to help people to do more, feel better and live longer.
I will spend the next six months volunteering (full-time) at UNICEF, being part of their day-to-day work and helping them delivering their vision: a world where all children, especially the most vulnerable and disadvantaged, have equal opportunities to survive and thrive.
Why it is so important to me?
An economist by background, I have spent most of my career in Human Resources, first at Accenture, then at GSK. I'm passionate about people, teams and organisations. I'm driven by supporting them in unlocking their full potential to increase their positive impact in the world. This is why joined GSK almost 10 years ago.
I'm also a big believer in teamwork and collaboration: breaking silos to be more effective and accelerate change. Partnerships between private organisations and not-for-profits are increasingly fundamental to tackle world's most pressing issues. I want to actively contribute in building those bridges across sectors.
'Now' is the moment
When I volunteer, I feel energised, positive and resourceful. I'm connected to humanity. While volunteering is about 'giving' (time, skills), it is amazing how much I get back. I learn, I develop and I'm shaking up my assumptions of the world. Now is the right moment for me to do more of that: Get more involved, change communities and, importantly, change myself.
While many of GSK's PULSE volunteers work in developing countries, I choose to volunteer in my home country, Belgium, at the UNICEF Brussels Office. As a mum of three, I didn't want to wait for them to grow up before I applied for the PULSE programme. Volunteering locally helps me fulfil my mission while being present for my family, which is so important to me.

Every little counts
Curious and excited… that's how I feel now!
I'm curious to better understand UNICEF activities and see the impact on children. I'm curious to discover why UNICEF employees and volunteers come to work every day. I'm curious to sense their organisational culture and ways of working. And of course, I'm curious (or rather, impatient) to see how I can contribute.
I'm excited to discover a new world, excited to meet new people and excited to start building the famous bridges.
Will I have an impact? That's my wish and my hope. I will keep on thinking 'do your best' and 'every little counts'… and I will give you some more news in a few weeks from now!
And finally…
I wanted to say 'thank you' to GSK, my line manager and my colleagues to give me this amazing opportunity and letting me focus my energy, attention and skills in serving the community in a different environment, and in a different way. I also want to thank UNICEF for opening their doors and welcoming me.
Back to top