Taking action to stop pneumonia
Pneumonia is a preventable and treatable disease. Yet it is still one of the world's leading causes of death in children under five years old: in 2015 almost one million children under five lost their lives due to this deadly disease. 12 November 2016 is World Pneumonia Day. On this day we will join others in raising awareness of the disease and taking action to tackle it.
Dr Richard Adegbola works as a scientific director in our vaccines business. His experience working on pneumonia research in West Africa has led him to join the fight against pneumonia here at GSK. Richard describes the burden of pneumonia in developing countries and how vaccination plays an important role in the fight against the disease.
"By training I'm a medical microbiologist, originally from Nigeria. After qualifying in the UK I joined the UK Medical Research Council, and was based in the Gambia in West Africa where pneumonia is a leading cause of death and disability in children under five years of age.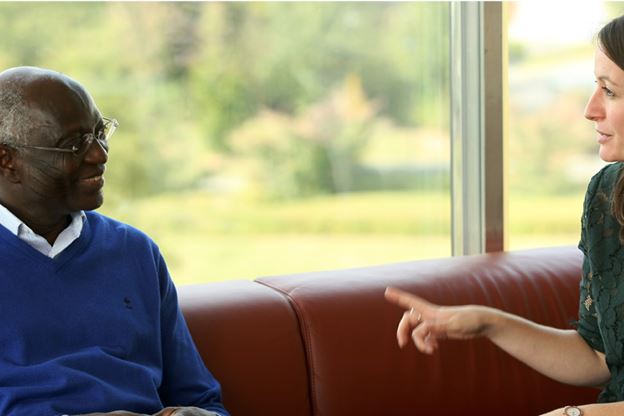 2% of child deaths from pneumonia and diarrhoea occur in just 15 countries: nine of which are in Africa; six in South Asia. The major challenge for communities in these areas is lack of access to good healthcare services. Pneumonia can start as a mild condition, but if it is not detected early, complications can start. By the time some children are able to get to a hospital, they can be overwhelmed by the disease, making it difficult to manage.
But in many cases this may be prevented. Vaccination is incredibly important in the fight against pneumonia, as it aims at preventing the disease rather than curing it. In other words, helping to fight the disease before it is able to cause long term damage to the patient. Vaccination is also important because it helps us to reduce our reliance on antibiotics, which in turn will help curb the rise of antimicrobial resistance.
Access to vaccines in developing countries is improving, thanks to the work of GAVI and its partners, making vaccines available early to those countries most affected by pneumonia. But more still needs to be done.
There are still challenges with delivering vaccines to the children who need them the most. For example, figures show that 60% of eligible children in those settings are not actually getting vaccinated. That translates to 80.7 million children not getting vaccines at the time they should get them.
There is more work to be done in implementation of vaccination programmes in those communities and we're dedicated to the challenge. Because no matter how good a vaccine is, it can't help prevent pneumonia unless it is used. We have to get vaccines to the children who need them. We need to translate vaccines to vaccination. That is what I have the opportunity to contribute to at GSK."
Our employees like Richard are working hard to tackle the challenge of pneumonia vaccination in developing countries. But we cannot do it alone. GSK works with a number of partners to deliver vaccines to the children who need them the most. 
Our commitment to Gavi
Over the past 16 years, Gavi has played a valuable role in bringing new and under-used vaccines to hundreds of millions of children in the world's poorest countries. GSK is one of the largest contributors of vaccines to Gavi, supplying innovative vaccines for rotavirus, pneumococcal disease and cervical cancer, at significantly reduced prices to help accelerate access in developing countries.
Supporting vulnerable refugee communities
The current refugee crisis affecting areas such as Syria and South Sudan can leave displaced people unable to access healthcare, and potentially vulnerable to vaccine-preventable disease. In response to this growing problem, we have committed to supply our essential vaccines to internationally recognised civil society organisations (CSOs) – such as Médecins Sans Frontières – at our lowest prices for use in acute humanitarian situations where governments are unable to respond.  Our pneumonia vaccine is the first vaccine we will supply in this way.